Oriental, Persian and Area Rug Cleaner near Wake Forest & Raleigh, NC
Did you know that your rugs could be hiding dirt and allergens even if they look clean? Regular vacuuming is not enough to prevent particles from getting trapped in the fibers. To avoid shortening the lifespan of your rug, it is recommended to have it professionally cleaned every 18-24 months. Protect your investment with the help of Phoenix Cleaning Solutions.
We Are IICRC Certified
By obtaining this certification, we have proven the proficiency in executing rug cleaning techniques and protocols, ranging from fabric identification, pre-inspection, fundamental cleaning chemicals and equipment to appropriate cleaning approaches with a focus on residential and light commercial settings.
Your Expert Raleigh Area Rug Cleaners
Ensure your valuable and rare rugs receive the best care possible by choosing an experienced and trustworthy professional. Look no further than Phoenix Cleaning Solutions, one of the the oldest and largest rug cleaning companies in Raleigh. We offer convenient pick-up and delivery services - simply contact us to schedule your rug cleaning service or we can come to your home and clean your rugs.
To protect your indoor air quality and investment, call on Phoenix Cleaning Solutions for the best rug and carpet cleaning services in Raleigh, Durham and Wake Forest areas in the Triangle!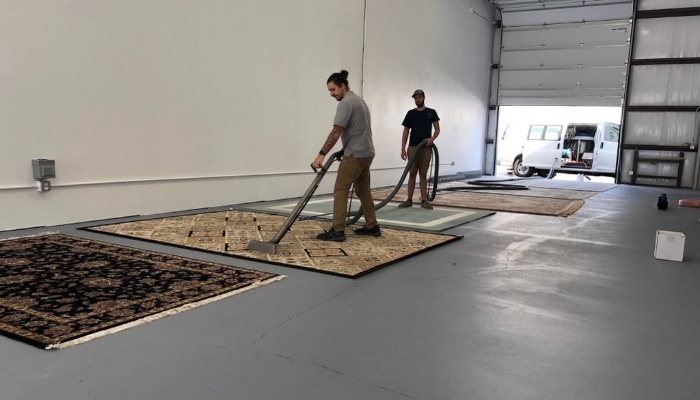 Our Rug Cleaning Process
Free pickup and delivery included.
Get a free initial estimate for our unparalleled rug cleaning services by simply giving us a call. To ensure your satisfaction, our team will inspect your rug in person and give you a final quote before beginning the cleaning process. Say goodbye to dirty rugs and hello to refreshed, like-new flooring!
Our full-service rug cleaning includes:
Pick-up
Dusting
Our Most Extensive Washing in our Rug Spa
Specialty Spot Treatment
Guaranteed Odor Removal
Protectant
Delivery
Looking for a cost-effective way to clean your synthetic area rugs? Look no further than our in-home cleaning service. Our team will come to your home and take care of the cleaning, with most rugs drying in just a few short hours. Say goodbye to the hassle of transporting and waiting for your rug to be cleaned, and enjoy a fresh and clean home with our reliable service.
For wool or oriental rugs, however, this will fill your home with the "wet wool" smell. If you have a wool rug, oriental rug or want a superior clean, we can pick up your rug, clean it and return it — usually within a few days.
Wool, Specialty & Oriental Rug Cleaning
At Phoenix Cleaning Solutions, we prefer to move your valuable specialty rugs to our shop for cleaning. Once at our Rug Spa, we can determine the best method of cleaning. These methods include steam extraction, dry cleaning, and full immersion cleaning. Our new location has enabled us to expand our rug cleaning services to offer our most thorough job to date!
We value that your oriental rug is a precious work of art that holds both financial and emotional worth. Our approach is to treat your rug with the highest level of care, just as we would our own. You can trust us to handle it delicately and gently, ensuring its return in an improved and thoroughly cleaned state.
How long do you keep the rugs?
We will normally keep rugs 2-4 weeks. Sometimes less depending upon the season.
Can you remove odors?
Yes, our full service rug cleaning process includes the complete elimination of any odors.
My rug is valuable do you know what you're doing?
Yes we are IICRC certified. Which means we have completed comprehensive training program for carpets and rugs. We cover everything from pre-inspection to fabric identification, as well as the proper use of cleaning chemicals and equipment. Our focus is on residential and light commercial cleaning techniques. Our company is over 25 years old and with over 50 years combined experience we have taken care of the most expensive type of rugs. Check out our reviews.  
Will my valuable rug be safe?
We are bonded and insured and we secure your valuable rugs in a gated locked rug plant during the cleaning process.  
Can you clean my rug in my home?
Yes we can clean your rugs in your home. Our vacuum is so powerful that cleaning rugs  won't damage the hardwood floors. BUT our preference is to take rugs to our rug plant for a detailed cleaning if time and budget permits.
Get Professional Rug Cleaning for Your Raleigh Area Home
Experts recommend professional oriental rug cleaning once every 18-24 months to keep your rug in good condition. With Phoenix Cleaning Solutions, we make having your rugs cleaned an easy decision that comes with a smooth process.
If you aren't satisfied with the results, you don't pay until you are, that's our promise to you.
Getting your rugs cleaned regularly will ensure they toughen out everyday wear and tear for years to come. Call us today at  919-362-1054 for your free initial price estimate!