Get Your Hardwood Floors Clean near Raleigh & Wake Forest, NC
When you sweep and mop to clean hardwood floors, you're not removing all the embedded soils and residual chemistry. Hardwood floor cleaning requires deep extraction because dirt, debris and allergens settle into cracks and crevices in the wood.
Sweeping and mopping are important steps to reduce abrasive debris and daily dirt brought in by foot traffic. However, professional hardwood cleaning is key to keeping the dirt out of your floors. Phoenix Cleaning Solutions uses expertise, the right chemistry and professional-grade equipment to clean hardwood floors. Your floors are left dry, spotless and ready for immediate use.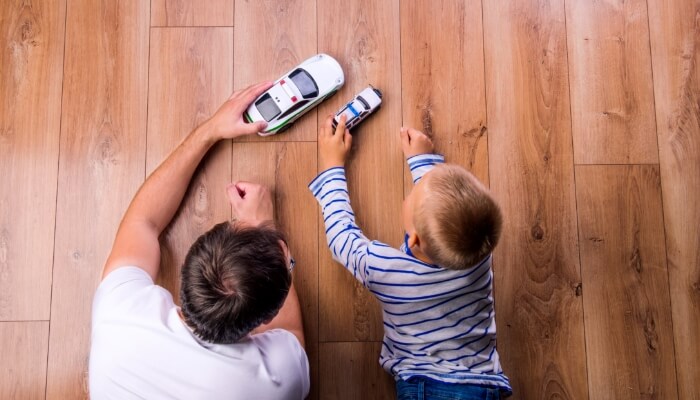 Our Professional Hardwood Floor Cleaning Process
Before we start cleaning hardwood floors, our technicians do a thorough inspection and determine the material so we use the best cleaning method. Our technicians will make sure to find any preexisting damage and determine what type of hardwood floor cleaning solution and hardwood cleaning machine to use on your floor.
Once the type of hardwood floor is determined, we will move as much furniture as we can out of the way and vacuum the entire area with our backpack vacuum tools. After all of the dry soil is removed, the actual cleaning begins.
We use a combination of professional tools that scrub and extract to deep clean your floors. This cleaning process includes our safe ph balanced hardwood floor cleaner, mechanical agitation and warm water to remove as much dirt as possible.
Our extraction process vacuums up all the dislodged dirt & debris while safely removing the cleaning solution. Your hardwood floors are clean and dry immediately after cleaning. You are safe to walk on your floors right away.
We Clean All Hardwood Flooring
We service all hardwood flooring, including:
Solid wood
Engineered wood
Laminate flooring
LVT flooring
Linoleum floors
Hardwood Cleaners You Can Trust Near Wake Forest, NC
We know how much of an investment your home's hardwoods are. We clean and service your hardwoods the right way, ensuring no damage is done and your hardwoods look better and last longer.
For a free estimate on cleaning your Wake Forest, NC, area hardwoods or other floor cleanings like carpets or oriental rugs, in and around Raleigh, contact our team today!