Get the Best Upholstery Cleaners For Raleigh & Wake Forest Area Homes
Your home furniture goes through a lot - spills, stains, pets, and kids can take a toll. Over time, it will experience natural wear and tear. The good news? Phoenix Cleaning Solutions can help! Our professional upholstery cleaning services, we can revitalize your couches, sofas and chairs and make them look brand new. Say goodbye to stains and hello to fresh, clean furnishings. Don't trust your treasured furnishings to any old furniture cleaners - trust those that will help your worn out things rise again like a Phoenix.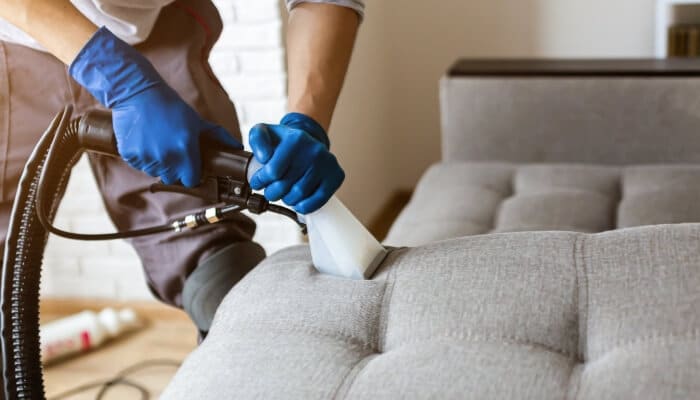 How effective is upholstery cleaning?
Upholstery cleaning can be highly effective in removing dirt, stains, and allergens from upholstered furniture. Professional upholstery cleaning methods, such as steam cleaning or dry cleaning, can penetrate deep into the fabric and lift away embedded dirt and grime. This process not only improves the appearance of the furniture but also enhances indoor air quality by reducing allergens. Regular upholstery cleaning can extend the lifespan of your furniture and maintain a clean and healthy living environment.
How do you clean a fabric couch?
To clean a fabric couch, start by vacuuming the surface to remove loose dirt and debris. Check the care label for specific cleaning instructions. For general cleaning, create a mixture of mild dish soap and water. Test it on an inconspicuous area before applying it to the entire couch. Gently scrub the fabric using a soft cloth or sponge, then rinse with a clean damp cloth. Allow the couch to air dry, avoiding direct sunlight. For stubborn stains, consider using a commercial fabric cleaner or consulting professionals for more delicate fabrics.
What Upholstery We Specialize In Cleaning
To keep your upholstery looking its best and lasting longer, it's important to remove dirt and oil that may cause the fibers to break down over time, as well as getting out stains and odors that make relaxing unpleasant. We understand that each bit of upholstery will have a particular type of fabric, from easy-to-clean to more delicate options for couches, sofas, and chairs. That's why we offer comprehensive, state of the art cleaning solutions for all upholstery types.
When you call us for upholstery service in Wake Forest, NC, or the surrounding cities, we will give you a free initial price estimate. You will find that we are very competitive. After you schedule a cleaning, we will give you the final quote after visually evaluating the furniture to be cleaned before any work is done.
We specialize in cleaning the upholstery of almost any of type of furniture, including:
Sofa Cleaners, Couch and Sectional Cleaning

Chairs

Armchairs

Dining Chairs

Recliners

Mattresses

Outdoor Upholstered Furniture

And More!
Our Upholstery Cleaning Process
Our process for upholstery cleaning begins by inspecting the pieces we are cleaning. Fabrics can vary and we take great care to treat each one uniquely. Sometimes it requires a test for color fastness.
After inspection, we can begin removing dry soil. Pet hair is often the culprit of greatest concern. Then we can pretreat the type of fabric with appropriate chemistries. We use surfactants and sometimes we use oxidizers. Different fabrics, stains, and soil levels help us to determine the best approach.
Then we use our truck mount hot water extraction machine to pulverize trapped dirt, dissolve stains, and remove dust mites and allergens to restore the fabric. This process leaves your furniture as brilliant as possible. Your upholstery is typically ready for use within a couple hours after cleaning.
We also offer extra protection with an optional application of Upholstery Protector to extend the furniture's lifespan and prevent future stains and odors. The protectant puts a thin layer between the fabric and future soils. It fills in micro-cracks of the fibers helping them repel stains. Today, most upholstery fabrics come with some amount of fabric protection from the factory. The treatment simply wears off over time. It's not a problem because we can simply reapply it to keep your furniture as close to new as possible.
Restore & Bring New Life To Your Home's Furniture
Frequent deep cleaning of your upholstered furniture ensures the long life of your favorite pieces. With appropriate care, your upholstered living room, dining room, and bedroom furniture will provide many years of use and start looking like the day you bought it!
Get the Best Sofa and Couch Upholstery Cleaners near Raleigh
Leave your DIY upholstery cleaning products and suggestions behind - trust the experts at Phoenix Cleaning Solutions to effectively clean and protect your furniture. With the right tools, products, and knowledge, our professionals utilize safe and effective cleaning methods that do not include harsh chemicals, soaps, or detergents. Ensure the longevity and cleanliness of your upholstery with our expert services.
We have a combined team experience of over 50 years of home and floor cleaning services so we know what it takes to get any piece looking its best! Connect with Phoenix Cleaning Solutions today for a free quote to clean your upholstery near Raleigh and throughout the Triangle area!